You don't need any magic to achieve your writing goals. What you need is a clear set of defined goals and a system that works for you. With NaNoWriMo coming up in a few weeks, it's hard not to feel overwhelmed. Whether it's your first time participating in NaNoWriMo or you're a seasoned writer, preparing for your writing project is essential.
Thus began my little series called Hocus Focus: Preptober Edition!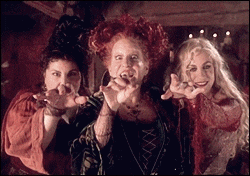 You know…Hocus Pocus…but instead, Focus as in Let's Not Be Distracted Come NaNoWriMo! Buuuuut you're not here for my witticisms, are you?
I put together this post as a short but somewhat detailed overview of what you'll need to do to prepare for NaNoWriMo. In fact, you don't need a 50 something checklist to prepare your work and yourself for NaNoWriMo. So scroll on down, and I do hope this post helps you with your NaNoWriMo goals.
Set goals and boundaries
NaNoWriMo is not just about hitting that 50k word count. Rather, set yourself goals aside that you know is achievable. This isn't cheating. It's a way to boost your own confidence while keeping you accountable. When you achieve the smaller goals, the bigger goals seem less daunting.
With your goals, it is also important to set boundaries. These can be relationship boundaries or personal writing boundaries. NaNoWriMo might be a tough month but it doesn't mean you have to lock yourself away in solitude to finish your project. Setting a boundary can be as simple as choosing the days you will write and days of rest, or notifying people of your unavailability during the entire month of November.
Set a reward system
Do not skip on this. I like setting up a reward for every 10k I write but you can pattern this according to what you'd like. Your rewards can include stickers, a fancy drink, or a movie. Whatever you decide on, (stick to it). NaNoWriMo is a difficult journey so make it enjoyable!
Questions to ask Yourself
Why are you doing this?
Think beyond just, 'I want to be a published author.' Whenever I feel like giving up on my book, I always look to what motivates me to finish the book. Who are you writing for? What message do you want your book to convey? What story are you looking to put out into the world?
What tools will you use?
You can never go wrong with a notebook, a pen, highlighters and a note cards. There are also a lot of apps and websites to help you stay on track with your writing. Some of my favourites:
To organize your novel
For world-building
To cut out distractions
Immerse yourself in your story
This is more of a personal experience but knowing which scenes would be important to my story helps me flesh out the rest of my novel's outline better. When I know what my key scenes are I understand the stakes of my story better. Identify the stakes, the story arcs, the character arcs; sit down with your characters and your story, and immerse yourself because once you start writing, you will need that solid foundation.
and finally,
Schedule your time
NaNoWriMo is difficult enough without having a lot of other things grabbing for your attention. Even if all you spend is fifteen minutes a day writing, keep that time sacred. Schedule it in and let everyone know that during that one hour or however long you need, it is yours and your story's. Choose your writing space and hour, and safeguard them. Before November starts, try to get what can be done, done. Be protective of the time you dedicate to your story.
🌸 Did I miss an app or website? Let me know and I'll add it to the list!
🌸 Are you participating in NaNoWriMo? What are your goals?
🌸 Did you enjoy this post? What post would you like to read next?
If you enjoy my work here at Camillea Reads, consider helping me by donating to my buying me a coffee through ko-fi, or joining my Patreon.