Mabuhay, friends, and enemies! Today is an exciting first in my blogging career! I am hosting a cover reveal aaaaah!
A few months ago I had approached Jordan Rivet about reviewing her new series, The Fire Queen's Apprentice. It was done on a whim, so I didn't really think Jordan would reply to me, but she did! I am so glad she did because The Watermight Thief is one stunning fantasy read!
*It was more like, I had offered my services and though I didn't think she grace me with the opportunity, she did!
 It was that book that set Jordan as a favourite author to me. So when she approached me* to do a cover reveal for the upcoming sequel, The Thunderbird Queen. It was a frightening moment because it's like having my sister trusting me with her newborn baby. Me. An anxious, messy organized pixie! 
Thank you, Jordan, for giving this scrappy little blogger a chance!
ABOUT THE AUTHOR
Jordan Rivet is an American author of fantasy and science fiction. She has written fourteen books, including three YA fantasy series, Steel and Fire, Empire of Talents, and The Fire Queen's Apprentice, and science fiction including Wake Me After the Apocalypse and The Seabound Chronicles, a post-apocalyptic adventure at sea.
Originally from Arizona, Jordan lives in Hong Kong with her husband. When she's not writing, she likes to read, travel, binge-watch TV shows, and eat other people's cooking.
Jordan's books are available in ebook, audio, and paperback. 
                                       🖋️ Website 🖋️ Goodreads 🖋️ Twitter
A CHAT WITH THE AUTHOR
Hey Jordan! Thank you so much for taking the time to talk to us. Before we get started, how about you give us a terrible and funny pitch of your book?
Thank you! The Thunderbird Queen is like Hitchcock's The Birds with more magical explosions.
Let's talk about Selivia and Tamri – what was the biggest obstacle you faced when writing them?
It's always a challenge to write sequels because the characters need to continue growing and changing in compelling ways. Tamri and Selivia had huge problems to solve in the first book in the series and they've both made a lot of progress. I needed to figure out where they would go next. Tamri is growing in her magical abilities and struggling in her personal relationships. She's on a path to figure out who she is, and the growth in her Wielding ability helps to mirror her personal development. Selivia, on the other hand, has no magic at all. Her growth is subtler as she figures out how to make use of her strengths and overcome her weaknesses. Writing her can be more challenging because I can't always rely on a burst of literal magical power to show her progress.
What would you want your readers to take away from Selivia and Tamri?
These young women struggle against powerful forces—both magical and political. They learn to wield their own kinds of power even though so many people underestimate them. I hope readers see them as flawed but inspiring figures who don't let their circumstances defeat them.
What did you and the cover artists from Deranged Doctor Design want to capture in The Thunderbird Queen cover?
I wanted the thunderbird to be epic! The designer came up with a magnificent feathered dragon for the cover of The Watermight Thief, and I was sure they could do something amazing with a magical bird of prey too.
Name your top three favourite covers.
I love the UK cover for Rebel of the Sands by Alwyn Hamilton—and the book is great as well! I think the dragon cover for Priory of the Orange Tree by Samantha Shannon is beautiful and unique. Finally, the new Storm and Fury by Jennifer L. Armentrout has a gorgeous cover that could also fit the books in the Fire Queen's Apprentice series ;).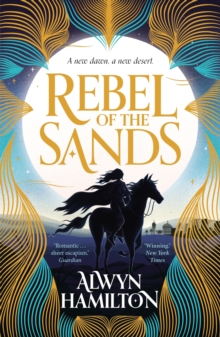 If you had one song to describe book two, what would it be?
"Whatever It Takes" by Imagine Dragons. Their song "Thunder" is also appropriate!
Before we reveal the cover for The Thunderbird Queen, is there anything you'd like to let your readers know? 
This series is for readers who love fantasy. It has vivid magic, fantastical creatures, and characters who care most about protecting the people they love. I hope readers will enjoy getting lost in this world—even though the thunderbirds are scary!
Thank you, Jordan, for taking the time to talk to us! And now, I hope y'all are ready to see the epic cover for Jordan Rivet's forthcoming THE THUNDERBIRD QUEEN!
THE COVER
The cover is designed by Deranged Doctor Design! Check out their portfolio for various book genres over at their website Deranged Doctor Design.
ABOUT THE BOOK
THE THUNDERBIRD QUEEN
BOOK TWO IN THE FIRE QUEEN'S APPRENTICE
AUTHOR: JORDAN RIVET
GENRE: FANTASY
PUBLICATION DATE: SEPTEMBER 20, 2019
A dangerous magic swells across the land. But who is controlling it?
Tamri is finally free of the oath bond and apprenticed to the Fire Queen. Their first task: figure out how to seal up the newly unleashed Lightning. The treacherous substance is spreading, affecting the dragons, the Wielders, and Tamri herself—not that she'll admit it.
With unfinished business back home, Tamri travels to Pendark to rescue her grandmother. But she'll get more than she bargained for when she comes face to face her grandmother's captor—who wants the Lightning for himself. Saving Gramma Teall could condemn the rest of the continent.
Meanwhile, vicious thunderbirds attack the mainland. Someone is using Lightning to control the magical creatures. Tamri must discover their identity before everyone she loves perishes beneath the swarm.
Add it on Goodreads 🖋️ Preorder the book on Amazon
What do you think? It was the metallic background that drew me to The Watermight Thief, so seeing how intense the cover for book two is, I cannot wait to read it! I'm sure Jordan Rivet has a lot of plot twists hidden behind that cover. Also, isn't the thunderbird just gorgeous? They're also very deadly creatures that tend to, well, tear people apart to death.
Once again, The Thunderbird Queen is set to be released this September 20. But the preorder link is already live on Amazon AND this is your chance to get the ebook copy for just 2.99 USD (153 PHP). I hope you'll pick up the book and join Tamri and Selivia on their adventures!
PIN THIS POST!
You can share this post on other social media platforms, too.
What are your thoughts on the book cover – do you love it?
Have you read The Watermight Thief, if not, do you plan to?
Have you read Jordan Rivet's previous books?
 If you enjoy my work here at Camillea Reads, consider helping me with my medications and savings by donating to my ko-fi! ☕