Besides the sweltering heat, every year summer brings us the fun and exciting Indie Reading Challenge! I began participating in the challenge last year with members from the Indie Fantasy Addicts Facebook group. Although a majority of the reads for the IFA Challenge are mostly fantasy, I've found that it has helped me greatly helped me step out of my comfort zone.
Indie books don't often get the hype and promotion as many traditionally published books do. So when it comes to choosing books for this challenge, I spend hours scouring different recommendation posts and looking up indie fantasy awards that fit my reading tastes.
Below I am sharing with you the details of the IFA Reading Challenge as well as some new & exciting reads that have caught my eye!
WHAT IS THE IFA CHALLENGE?
June 21, the first day of summer, marks the first day of the Summer Reading Challenge in the Indie Fantasy Addicts Facebook group. Read ANY indie fantasy, and subgenre of fantasy (ARCs, audiobooks, and shorts included and have a chance at winning some amazing prizes such as signed books, ebooks, audiobooks, and swag from some Amazon Bestselling and USA Today Bestselling authors!
The goal of the challenge is for members to discover more nail-biting, edge of your seat, take-you-for-a-wild-ride-and-leave-you-breathless books! All readers have to do is post about their reads in the group and tag them with #IFASummerChallenge19.
#IFASUMMERCHALLENGE DETAILS
The purpose of this is just to have fun and discover more amazing indie fantasy authors! We are going to make this simple. There is no set reading list. ARCS and audiobooks also apply. Read whatever you want as long as it's indie fantasy.
All you have to do is post what you're reading, tag it with #IFASummerChallenge19, and your thoughts on the book (without spoilers!) so the rest of us can discover more amazing adventures!
The Challenge will go from June 21 to September 22, 2019—the last day of summer! For the solo challenge (everyone is included in this regardless if you're on a team or not), we will be doing a tiered winning system since not all readers read at the same rate. Eg. A tier for the winner for whoever reads the most indie fantasy books, and a few other tiers. eg. 20+, 16-20, 11-15, 5-9. 0-4. Draws will be done to choose winners from the two lower tiers.
GRAND PRIZE
Multiple signed books and swag
The other tiers will have chances to win a signed book, ebook, audiobook, swag, etc.
There will also be prizes awarded to the winning team, the team with the best team spirit, the team who listened to the most audiobooks, etc.

TEN BOOKS ON MY RADAR
TOUCH OF IRON BY TIMANDRA WHITECASTLE 🐉 Is the Living Blade real or just a legend? The reviews say this is a grimdark fantasy of characters on a quest to find The Living Blade. I just need to know what this living blade is.
THREE MAGES AND A MARGARITA BY ANNETTE MARIE 🐉 The title itself is pretty interesting. A bartender servicing a special clientele of mages? Also, that cover is a neon perfection. 
THE KNIGHTS OF THE DEAD GOD BY JAMES JAKINS 🐉 I enjoy fantasy books that half a religious overtone especially ones with gods rising again. This book follows a half-orc girl, a holy knight, and a witch as they journey together. Something about that just spells trouble.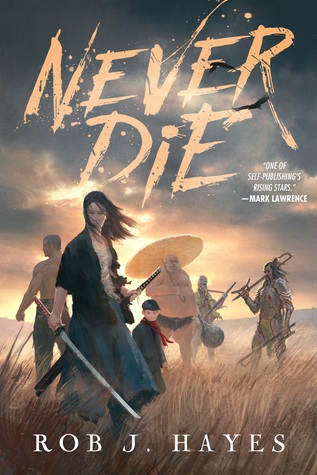 NEVER DIE BY ROB J. HAYES 🐉  "It falls to a murdered eight year old boy to render the judgement of a God." !!! Whaaaaaaat? How cool is that blurb?! 
DUEL OF FIRE BY JORDAN RIVET 🐉 I adore Rivet's The Watermight Thief where I got to meet Dara Ruminor. Comparing her character in Watermight to the blurb of Fire shows how far her character has come. I loved her in Watermight and want to read about her beginnings as a duelist in the Kingdom of Vertigon. 
THE SWORD OF KAIGEN BY M.L. WANG 🐉 Described as a crossover between The Poppy War and The Last Airbender, I immediately purchased this read. It's a story about a mother picking up the sword to protect her son from the impending invasion.
PATERNUS: RISE OF GODS BY DYRK ASHTON 🐉 It has gods in the title! From the reviews and blurb, this book seems to have a crazy mix of gods, monsters, myths, and legends from many different cultures! I am very curious to see how the author handles the story!
THE PATH OF FLAMES BY PHIL TUCKER 🐉 This book won second place in the Self Published Fantasy Blog Off of 2016 held by Mark Lawrence, who also described it as having an 80s fantasy feel.
THE THIEF WHO PULLED ON TROUBLE'S BRAIDS BY MICHAEL McCLUNG 🐉 I love books which center on thieves; the book features Amra who is in search of a weapon called The Blade That Whispers Hate. With that title and weapon name, this book just sounds trippy.
SYMPHONY OF THE WIND BY STEVEN MCKINNON 🐉 A fierce woman and her ship makes for a good adventure! Not to mention this book was a finalist Self-Published Fantasy Blog-Off in 2018.

What do you think of the books? If you're not satisfied with my list of ten, maybe check out the rest on my Amazon list of Indie Kindle Reads.
If you like my content & would love to help out, you can do so by donating to my Ko-Fi Page. If the image doesn't work, please click here.

Are you joining in the Summer Indie Reading Challenge? 
What books are on your TBR?