Today, I'm glad to have the opportunity to introduce you to a book that has emotionally wrecked. All We Could Have Been by TE Carter is a story about a girl who carries her brother's crime as though it is her own. What I loved about this book was about how Lexi tried to come to terms with what her brother did, moving on with it and in spite of it. In the beginning I was a bit unsure of this book and wondered how so many heavy emotions could be carried but I was pleasantly surprised by how the author balanced it all. In the end, this story was more than just about grief.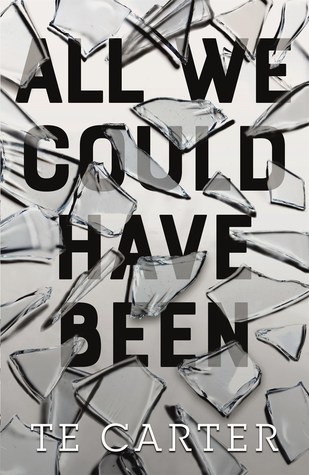 Five years ago, Lexie walked home from school after her older brother failed to pick her up. When she entered her house, her brother sat calmly, waiting for the police to come arrest him for the heinous crime he had just committed.
Treated like a criminal herself, Lexie now moves from school to school hiding who she is—who she's related to. She struggles with loving her brother, the PTSD she now suffers from, and wanting to just live a normal life. But how can she be normal when she can't even figure out how to just live? 
This is a powerful look at the assumptions we make about people. Lexie's emotional journey to separate her brother's horrific act from herself is stunning and heartbreaking. This is Lexie's story and journey—not her brother's—and it will stay with you long after you turn the last page.
TRIGGER WARNING: death, blood, PTSD, self-harm, smoking
It's difficult to find the words to describe the ache and relief I've experienced reading T.E. Carter's All We Could Have Been. Lexi's, a sixteen year old girl, suffers from PTSD after coming home to find her brother being arrested. The aftermath of her brother's crime sinks its fingers into every life she tries to create. This book hit me very hard. I was completely mesmerized by Carter's prose which seemed to jump out of the pages. There is so much to unfold in this story beginning with Lexi's PTSD to people and what it means to hope. As a reviewer, unpacking this novel is going to be difficult.
All We Could Have Been is more than just a coming of age story. Lexi is a character who can be hard to relate to for many readers; she is such a layered character who only wants to be normal, however, she also believes her life is defined by the moment of her brother's crime. We see this in the way people look at her through lenses tainted by her brother. It's a very hard thing to read about because, for me, I was emotionally moved by how Lexi coped with this. Her anxious thoughts and coping methods were indeed very harmful but they were all she knew. All she could depend on and that hit me very hard. It was a familiar situation. For anyone who might want to read this book, I have to say that it is very triggering and you'll need to take breaks in between to get through this. Please consider your mental state first before picking up this book.
Lexi's narrative as she tries to start new had me deeply invested. She is an engaging character who readers will only want to support. Honestly, although I sympathized with her, Lexi never comes off as a person who you feel pity for. You'll feel angry on her behalf, or compassion for her. Yes, she is anxious but she is not one of those characters who sits around in self-pity. I loved her for the bravery of trying to fit in. I loved her hopeful nature and belief in people, and it is what hurt me the most.
Lexi and Ryan are also very cute. I adored them and it broke my heart how Ryan reacted after learning her past. But it is also something that is so human. I don't like what Ryan did but I also understand it, so I couldn't hate him as a character. I really liked her relationship with Marcus which I thought was very sweet. It's great to have a character who is a bit of cynic, and I think Marcus and Ryan were very interesting characters on their own. I wish we could know more about their stories. Even so, I love that this was a story about Lexi accepting herself rather than being accepted by people.
"[…] people change when you really see them. They're one way when it's easy. But they change when they're tested. When something makes them uncomfortable."
Her struggle to make friends and live normally is so painfully human and that is one part all readers will relate to. Grief, in this story, is almost so palpable. It is scary to know of the many ways it can affect one's life but Lexi's struggle to simply exist in spite of people's assumption was hard. The bullying she endured really shows how people cruel people can be. In this way, Rory Powers was interesting and scary. Rory was Lexi's friend until she found out about Lexi's past. Rather than seeing Lexi's grief and the psychological toll on her, Rory manipulated the situation to serve her own twisted sense of social justice. While I understood Rory's anger, she was, at heart, a bully. People like this are real; it's terrifying to know how one's damage can be easily exploited for another's gain.
"Some people search out weakness. When they sense it, they find those cracks, the places you hurt, and they dig at them. They're only happy when other people are in pieces, because they don't know wholeness themselves."
Much of Lexi's thoughts resonated with me. As one who also suffers from PTSD, her anxiety and coping techniques mirrored every one of mine, that I felt I was reading about myself. Again, I would like to warn you to be careful when picking up this book. It is an important but difficult read.
ABOUT THE AUTHOR
TE Carter was born in New England and has lived in New England for pretty much her entire life. Throughout her career, she's done a lot of things, although her passion has always been writing. When she's not writing, she can generally be found reading classic literature, playing Xbox, organizing her comic collection, or binge watching baking competitions. She continues to live in New England with her husband and their two cats.
Thank you to Fantastic Flying Book Club and Feiwel & Friends for the review copy. As always, this does not influence the content of my review. This post contains affiliate links.