I love girls with just the right balance of being ruthless and tender. Falling in to Rin Chupeco's The Bone Witch was inevitable! The Bone Witch with its endearing prose and diverse culture seduced me entirely. When I first picked up the book, I had assumed the plot would follow the "Chosen One" trope, in fact, it seemed very likely that it was going to be a "girl saves kingdom" kind of book. And while many, many events lead to this assumption, my thoughts slowly wavered as I realized this a book about a girl being consumed by vengeance.
The world of The Bone Witch is built on traditions. The characters portrayed in this book who seem to be a mix of East Asia, Russia, and South East Asia. In fact, many of the places mentioned seem to have been influenced by cultures of Asia and the Middle East. Rin Chupeco writes heavy descriptions when it comes to the description of food, and fashion, specifically the hua, worn by the Ashas. Chupeco's description is, like I said, heavy with creativity that one has to take a step back to imagine Mistress Parmina's hua or the swirling colours of a heartglass.
Enjoyable as it was, there was a tendency for the author to tell rather than show. The heavy info dumps and purple prose will not appeal to every reader, or those who prefer a more fast paced book. I have to admit that this book is achingly slow but it worked out well for me because I love stories with rich atmospheres, and learning about this world's history was treat.
"THERE IS ALWAYS SOMETHING NEW TO DISCOVER EVERY DAY, NO MATTER HOW SKILLED YOU ARE."
In the world of The Bone Witch, Asha are women who yield a certain magic; there are three types of Asha – those who perform in the arts, those skilled in combat, and then there are the Dark asha whose skills are in line with a necromancer. Although powerful magic wielders, Ashas are also entertainers for parties. Imagine "Memoirs of a Geisha." But this, according to Mistress Parmina, is a means to influence politics. I found that an interesting take, because according to the book Ashas of the arts are considered the weakest of their kind and yet they are the ones guiding a hand in politics. I wish I could read more about that particular aspect of The Bone Witch world.
"YOU CAN BE THE MOST POWERFUL WITCH IN THE LAND, BUT YOU WILL ALWAYS HAVE A WEAKNESS, AND THAT WILL ALWAYS MAKE YOU BELIEVE YOU HAVE NO POWER WHEN SOMEONE EXPLOITS IT. THERE IS NO GREATER STRENGTH THAN THE ABILITY TO UNDERSTAND AND ACCEPT YOUR OWN FLAWS."
Still, one has to appreciate how the author not only built this beautiful world but also writes about the economical, ideological, and societal imbalances. For example, magic is always found to be procured by the richer sect who weave threads of it in to their fashion to enhance their persona. Tea wonders why this magic is not used to help the poorer communities with harvesting their fields. Another is the gender imbalances with regards to Ashas only recruiting women, and Deathseekers only taking in men in spite of the Ashas being trained in combat. Tradition plays a deciding role in this world, and we know how dangerous something like that can be.
The book introduces readers to a younger and naïve Tea, and to an older, angered Tea. The difference in their personalities is a wide chasm that it feels like I am reading about two different persons. Tea's relationship with her dead brother, Fox, is what kept this story from being all about Tea's asha training.
"YOU THINK IN THE SAME WAY MEN DRINK, TEA," MY FATHER ONCE SAID, "FAR TOO MUCH—UNDER THE DELUSION IT IS TOO LITTLE."
The general plot of the book is a subtle in comparison to Tea's journey to become an Asha. While this does leave me wanting for a better understanding about the looming evil, Tea's apprenticeship and eventual rise seems important in understanding the workings of the world.
An unfortunate thing about reading The Bone Witch was that there were quite a lot of terms which confused me, so I think the book might have benefited from a glossary readers could flip back to from time to time.
The Bone Witch is indeed a beautiful book – luscious and lined with darkness. I could not put it down as the world was immersive, and just like the Bard, who listens to Tea's story, I could not draw my eyes away from the Dark asha's mystery.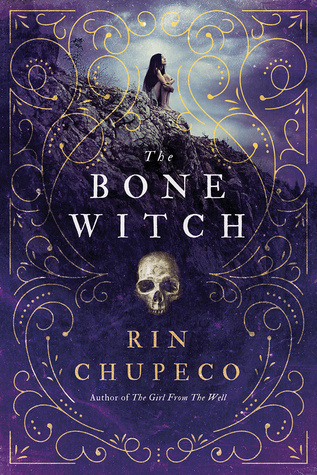 Let me be clear: I never intended to raise my brother from his grave, though he may claim otherwise. If there's anything I've learned from him in the years since, it's that the dead hide truths as well as the living.
When Tea accidentally resurrects her brother from the dead, she learns she is different from the other witches in her family. Her gift for necromancy means that she's a bone witch, a title that makes her feared and ostracized by her community. But Tea finds solace and guidance with an older, wiser bone witch, who takes Tea and her brother to another land for training.
In her new home, Tea puts all her energy into becoming an asha-one who can wield elemental magic. But dark forces are approaching quickly, and in the face of danger, Tea will have to overcome her obstacles…and make a powerful choice.
Amazon || Amazon Kindle || Book Depository || Goodreads
DO YOU PREFER LUSCIOUS PROSE OR HEAVY WORLD DESCRIPTIONS?
HAVE YOU READ THE BONE WITCH? WHAT KIND OF ASHA WOULD YOU LIKE TO BE?