Dragon of the West and Finest Tea Brewer in Ba Sing Se might sound like titles belonging to two different persons when, in fact, they are the honorary titles held by the beloved General Iroh.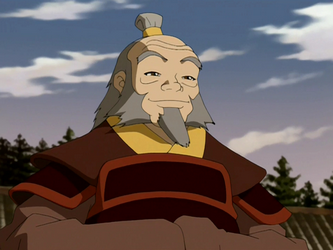 A former Crown Prince to the Fire Nation, a Grand Lotus of the the Order of the White Lotus, owner of the Jasmine Dragon teashop, and most importantly, a father to Prince Zuko.
Prince Zuko, pride is not the opposite of shame, but it's source. True humility is the only antidote to shame.

– Iroh, Avatar: The Last Airbender
After Zuko's exile, Iroh was his only companion who patiently tried to steer the bitter and angry prince on to the right path. I love Iroh's character because he was always so generous with love and patience for Zuko. Where everyone saw a spoilt, dishonored prince, Iroh saw him better. He cared for the young prince, mentored him not only in mastering his combat skills but also tried to nurture kindness and compassion in Zuko.
As a general and enemy, Iroh can be shrewd and calculative yet he is not cruel. Unlike his immediate family, Iroh is not a power-hungry man. For him, his life's goal was to open a tea-shop.
"Protection and power are overrated. I think you are very wise to choose happiness and love. There are reasons each of us are born. We have to find those reasons.

– Iroh, Avatar: The Last Airbender
As a mentor, Iroh willingly accepted a life of exile, of being hunted as traitors, and eventually imprisonment. His great compassion and belief in Zuko is admirable; Iroh is the kind of mentor who will never desert his student, the kind of mentor who will suffer side by side with you.
I would love to be mentored by him because of how he has balanced his emotions. Besides firebending combat, that is something I would benefit learning.
I Heart Characters! is a weekly meme hosted by Dani @ Perspective of a Writer to showcase our book blogger love for characters! Each week she'll supply a topic and you'll supply the character. Post on whatever day suits you, about characters from whatever media you love (books, movies, K-dramas, television, manga, anime, webtoons, whatever!) and link up on Thursday so YOU and others can blog hop and share the character love.
Let's be friends!
instagram || twitter || goodreads || facebook
Disclaimer: Text dividers are from Freepik. Camillea Reads uses affiliate links, which means that, at no cost to you, I receive a small commission whenever purchases are made using the links.