Fairytaly retellings are my "pick me up" books; it's the nostalgic yet familiar atmosphere retellings provide that keeps me going back to them. So when I got the opportunity to review Happily and The City Beyond The Glass, I jumped at them! The books might be fun and easy to read but each carried a moral that is so like the fairytales I grew up reading. 
I enjoyed reading Happily for the fun, clean adventure it gave me. Chauncey Rogers pays a beautiful homage to the classic fairytale, Cinderella, but with one crucial difference – there is no Cinderella. In fact, there is no helpless damsel, no white horse or talking rats, no fairy godmother, only the famous glass slipper.
In its simplest form, Happily is about two strangers who want a better life and plan to take it with their own hands. The lack of magic may seem unusual for a fairytale retelling but, I believe, this is the heart of the story. Chauncey Rogers writes a resilient and silver tongued girl who probably never even made background character in Cinderella's story. I loved how Rogers took the spotlight away from the supposed main characters and focused on someone mundane. This makes reading Happily relatable; it's a contradiction to everything a fairytale is, which I thought to be quite a clever approach! The focus in Happily is not magic or kindness, but on the challenges on face's in life. It peels back the page of the proverbial "happily ever after" to show us that "evil villains" aren't always step-mothers but can be at times emotions like loneliness, mistrust, and so on. While I was reading Happily, it came to mind that the author -without trivializing Cinderella's abusive situation – showed us the importance of the "smallest" problems and how they shouldn't be pushed aside because someone else may seem to have it worse.
This is one moral I took back from reading Chauncey Rogers' Happily. I loved this beautiful and quick read, and would highly recommend it for adults and children alike. Also, allow me a moment to gush over the cover! It's so elegant and simply, the colours just pop at you! I love how the focus is on that glass shoe and I just…I need myself a physical copy, ok?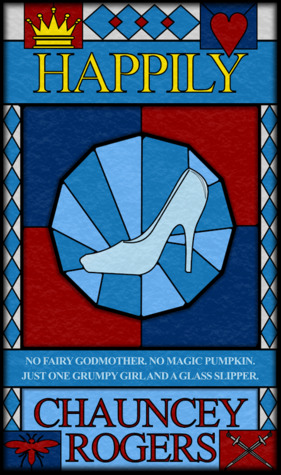 If the shoe fits, wear it.
If it doesn't, make it.
Laure is a teenage street urchin just trying to get away. Where the rest of the world sees an enchanting love story, Laure sees royal incompetence and an opportunity to exploit it. She'll have wealth and a way out of a life she detests, if she can only manage to hoodwink the royal family and survive to tell the tale.
The City Beyond The Glass by Suzannah Rowntree was one of my anticipated reads for 2018. After hearing about it being a dark retelling of The Twelve Dancing Princess set during Renaissance Venice, I was immediately expectant! Not to mention how gorgeous and velvety the book cover is.
The concept and plot for Beyond The Glass was pulled off really well, so if you're looking for a quick read, then I'm sure you will enjoy this retelling immensely! However, for me, the book felt a bit too short, length-wise; perhaps it's for this reason the historical richness I expected was lacking. It was a bit too fast paced, in my opinion, for what it wanted to deliver. I think it might have done better as a novel rather than a novella, but that's just my opinion.
I'm a newbie to the Renaissance era in Italy and while the book did portray some of the culture in passing, it didn't feel enough for me, personally. Then again, the setting was quite limited to the Caloprini household and the Glass Doge's world.
So, The Glass Doge is meant to be the antagonist in this novella. I was really interested in his character! There was a great potential to this particular villain, however, again it fell short for me. I think this partly in reason because we are never truly introduced to his character. All we know is that his power is limited to The City and he requires lives for it to thrive. I always expect to know my villains' motives but with this it was quite vague…?
Besides those two points, I really enjoyed reading The City Beyond The Glass. For an amateur historian, Suzannah Rowntree's research is extensive and she really incorporates them into her story. In this novella, we are shown the merciless treatment towards women, the life of the Murano glassmakers, and the slavery in Venice. Reading Rowntree's books makes for a fun and educational read! For a novella, she does create a layered and rich background which showcases her writing ability. While this novella wasn't impactful as it could have been , I did take back a good moral from Beyond The Glass:
The best freedom I've found in a life much longer and more active than yours, is the kind that comes when people love you so much that they'll lay themselves down to give you what you want.
In Renaissance Venice, the daughters of nobility must marry – or live and die trapped behind convent walls. Impulsive and adventurous, Gemma Caloprini thanks her stars that she's destined for marriage…until an unwanted betrothal goads her to defy her father and risk her most dangerous secret: the Glass Doge, a sinister nobleman who lives behind the glass of her mirror.
Now Gemma faces a brutal dilemma. If the suitors competing for her youngest sister's hand discover her secret, she'll be locked in a convent. If the Inquisitors find out, she'll burn as a witch. And if she can't pay her debt to the Glass Doge, she'll lose her soul forever.
THE CITY BEYOND THE GLASS is a dark and spellbinding YA retelling of THE TWELVE DANCING PRINCESSES.
I do hope my review has convinced you to give these authors a chance because they are so, so good! Thank you to Chauncey Rogers and Suzannah Rowntree for providing me with the review copies, however, all opinions expressed are my own.
Which is your favourite but underrated fairytale retelling?
Let's be friends!
instagram || twitter || goodreads || facebook
---
Disclaimer: Headers and text dividers from Freepik. Camillea Reads uses affiliate links, which means that, at no cost to you, I receive a small commission whenever purchases are made using the links.