As limited as my collection is I love reading books from different countries. My love for history and culture has created this passion in me to learn more about diversity. Still, I'm not satisfied with the books I've read so far because I feel there's so much more I don't know yet! I'll keep looking but until I do, here are seven of my favourite books from over the world.
This blog post is a link up with Top Ten Tuesday, an original feature/weekly meme created at The Broke and the Bookish and now moved to That Artsy Reader Girl. For info about the topics and how to participate, click here.
KABUL, AFGHANISTAN
A Thousand Splendid Suns by Khaled Hosseini
Born a generation apart and with very different ideas about love and family, Mariam and Laila are two women brought jarringly together by war, by loss and by fate. As they endure the ever escalating dangers around them—in their home as well as in the streets of Kabul—they come to form a bond that makes them both sisters and mother-daughter to each other, and that will ultimately alter the course not just of their own lives but of the next generation.
With heart-wrenching power and suspense, Hosseini shows how a woman's love for her family can move her to shocking and heroic acts of self-sacrifice, and that in the end it is love—or even the memory of love—that is often the key to survival.
---
Thoughts: A beautiful book of friendship and undying love. I ached for Mariam and Laila. This is one of those books that will make you look differently at the world.  The story-telling tugs at the heart; it's evocative in the relationships it portrays.
CEPHALLONIA, GREECE
Corelli's Mandolin  by Louis De Bernières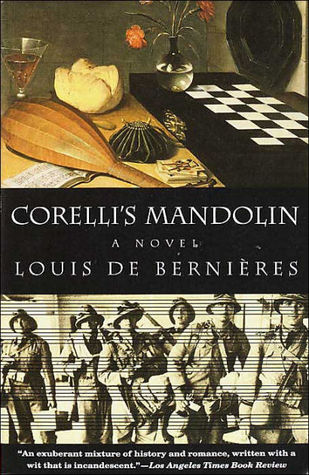 Captain Corelli's Mandolin is set in the early days of the second world war, before Benito Mussolini invaded Greece. Dr Iannis practices medicine on the island of Cephalonia, accompanied by his daughter, Pelagia, to whom he imparts much of his healing art. Even when the Italians do invade, life isn't so bad—at first anyway. The officer in command of the Italian garrison is the cultured Captain Antonio Corelli, who responds to a Nazi greeting of "Heil Hitler" with his own "Heil Puccini", and whose most precious possession is his mandolin. It isn't long before Corelli and Pelagia are involved in a heated affair–despite her engagement to a young fisherman, Mandras, who has gone off to join Greek partisans. Love is complicated enough in wartime, even when the lovers are on the same side. And for Corelli and Pelagia, it becomes increasingly difficult to negotiate the minefield of allegiances, both personal and political, as all around them atrocities mount, former friends become enemies and the ugliness of war infects everyone it touches.
---
Thoughts: This is a very charming novel of love set during the war. I fell in love with the characters of this book, each as multi-layered as the story itself. It was quite an adventurous read!

SOUTHERN JAPAN
Kafka On The Shore by Haruki Murakami
Kafka on the Shore is powered by two remarkable characters: a teenage boy, Kafka Tamura, who runs away from home either to escape a gruesome oedipal prophecy or to search for his long-missing mother and sister; and an aging simpleton called Nakata, who never recovered from a wartime affliction and now is drawn toward Kafka for reasons that, like the most basic activities of daily life, he cannot fathom.
As their paths converge, and the reasons for that convergence become clear, Haruki Murakami enfolds readers in a world where cats talk, fish fall from the sky, and spirits slip out of their bodies to make love or commit murder. Kafka on the Shore displays one of the world's great storytellers at the peak of his powers.
---
Thoughts: How do I even begin to describe Murakami's work? Kafka is dark and whimsical tale that left me in a dizzy hangover. The writing is very simple but also philosophical.

CHINA
Chinese Cinderella by Adeline Yen Mah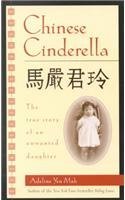 A riveting memoir of a girl's painful coming-of-age in a wealthy Chinese family during the 1940s.
A Chinese proverb says, "Falling leaves return to their roots." In Chinese Cinderella, Adeline Yen Mah returns to her roots to tell the story of her painful childhood and her ultimate triumph and courage in the face of despair. Adeline's affluent, powerful family considers her bad luck after her mother dies giving birth to her. Life does not get any easier when her father remarries. She and her siblings are subjected to the disdain of her stepmother, while her stepbrother and stepsister are spoiled. Although Adeline wins prizes at school, they are not enough to compensate for what she really yearns for — the love and understanding of her family.
---
Thoughts: A shocking and inspiring memoir. I think I cried a few times while reading this.

KERALA, INDIA
The God of Small Things by Arundhati Roy
The year is 1969. In the state of Kerala, on the southernmost tip of India, fraternal twins Esthappen and Rahel fashion a childhood for themselves in the shade of the wreck that is their family. Their lonely, lovely mother, Ammu, (who loves by night the man her children love by day), fled an abusive marriage to live with their blind grandmother, Mammachi (who plays Handel on her violin), their beloved uncle Chacko (Rhodes scholar, pickle baron, radical Marxist, bottom-pincher), and their enemy, Baby Kochamma (ex-nun and incumbent grandaunt). When Chacko's English ex-wife brings their daughter for a Christmas visit, the twins learn that things can change in a day, that lives can twist into new, ugly shapes, even cease forever, beside their river…
---
Thoughts: I was wrecked by the end of this novel. It's so captivating and rich in its atmosphere.

GLASGOW, SCOTLAND
House of Spines by Michael J. Malone
Ran McGhie's world has been turned upside down. A young, lonely and frustrated writer, and suffering from mental-health problems, he discovers that his long-dead mother was related to one of Glasgow's oldest merchant families. Not only that, but Ran has inherited Newton Hall, a vast mansion that belonged to his great-uncle, who appears to have been watching from afar as his estranged great-nephew has grown up. Entering his new-found home, he finds that Great-Uncle Fitzpatrick has turned it into a temple to the written word – the perfect place for poet Ran. But everything is not as it seems. As he explores the Hall's endless corridors, Ran's grasp on reality appears to be loosening. And then he comes across an ancient lift; and in that lift a mirror. And in the mirror … the reflection of a woman … A terrifying psychological thriller with more than a hint of the Gothic, House of Spines is a love letter to the power of books, and an exploration of how lust and betrayal can be deadly…
---
Thoughts: A chilling and mind boggling story! Everything about this book screams PSYCHOLOGICAL THRILLER!

COLOMBIA
Love In The Time Of Cholera by Gabriel Garcia Marquez
In their youth, Florentino Ariza and Fermina Daza fall passionately in love. When Fermina eventually chooses to marry a wealthy, well-born doctor, Florentino is devastated, but he is a romantic. As he rises in his business career he whiles away the years in 622 affairs–yet he reserves his heart for Fermina. Her husband dies at last, and Florentino purposefully attends the funeral. Fifty years, nine months, and four days after he first declared his love for Fermina, he will do so again.
---
Thoughts: I didn't find anything particularly unique about the love story in this book, however, the author's writing completely won me over.
Is there a book from your country you wish more people would read? Share it in the comments below!
Let's be friend!
goodreads || instagram || twitter || facebook