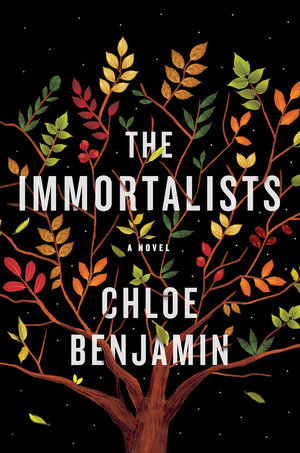 The point is not to negate reality but to peel back its scrim, revealing reality's peculiarities and contradictions. The very best magic tricks […] do not subtract from reality. They add.
The Immortalists
Author: Chloe Benjamin
Genre: Adult, Literary Fiction
Published January 9th 2018 by G.P. Putnam's Sons
---
If you were told the date of your death, how would it shape your present?
It's 1969 in New York City's Lower East Side, and word has spread of the arrival of a mystical woman, a traveling psychic who claims to be able to tell anyone the day they will die. The Gold children—four adolescents on the cusp of self-awareness—sneak out to hear their fortunes.
Their prophecies inform their next five decades. Golden-boy Simon escapes to the West Coast, searching for love in '80s San Francisco; dreamy Klara becomes a Las Vegas magician, obsessed with blurring reality and fantasy; eldest son Daniel seeks security as an army doctor post-9/11, hoping to control fate; and bookish Varya throws herself into longevity research, where she tests the boundary between science and immortality.
This book is, in itself, an analysis to its own question, "If you were told the date of your death, how would it shape your present?"
The Immortalists is a literary fiction which reminds me of works like East of Eden, White Oleander, Love in the Time of Cholera and The Namesake. Although The Immortalists is void of any magic realism, a sense of eerie anxiety accompanies its storytelling.
While reading the book there was a divide between the more impetuous of the siblings and the one who played it cautious. Still, no matter which character's mind we read from, they were all clearly afraid of their deaths. It was ironic that the Klara and Daniel even though they had shaped the life they wanted, made a mad dash towards their end. Of course, this isn't to demean Klara's emotional health at all.
The characters snagged at my heart, filling it with joy and pain as I followed their desires and passions.
Chloe Benjamin writes with beauty and thoughtfulness. Her imagery is very vivid; her prose stands out sharp against the backdrop of my imagination. It is a slow read but, as you know, I am fan of such books. I loved being drawn into the Gold family, learning their Jewish heritage and understanding the bond between siblings. This book is heavy with emotions ranging from envy to regret to guilt. It depicts sibling relationships down to the bone. I love the author's work with The Immortalists – the authenticity and the fire each of the siblings brought to the story.
Thank you to NetGalley and Penguin Group Putnam for providing me an advanced e-copy of the book in exchange for an honest review.
Have you read The Immortalists by Chloe Benjamin? What are your thoughts on this book?
If you learned the day of your death, what would you change?
Connect with me on instagram || goodreads || twitter
---
Disclaimer: Text dividers from Freepik. Camillea Reads uses affiliate links, which means that, at no cost to you, I receive a small commission whenever purchases are made using the links.