Happy Tuesday, little dreamers!
At some point in life, I plan to adopt children. I mean, it's that or birthing seven kids*
So for this week's Top Ten Tuesday I decided to go with Orphan characters I would welcome into my home. Can you imagine the dinner table with these ten children there?
Well, you don't have to because I just did. I hope I did these characters justice.
Seven?! You must be screaming. Why not? It's a lucky number and enough for a little army of sweet terrors at command.
Laila
This books has impacted my life in more ways than I can name. I always understood that for a woman to be strong, she'd have to be one of those badass women who can fight and speak their minds. Nothing wrong with that but it's also a harmful stereotype. When I first met Laila I loved her for her fearless yet childish nature, but as I read on, I began to love her for turning submission into strength, for using words instead of fists, for daring even when the odds meant death. I never knew that being selfless also meant strength but Laila showed me that.
Laila, Jane, and Liesel would become great friends real quick! Laila would be the emotional and passionate story teller of the three! It would take a very long time to have them at the table.
---
Liesel Meminger
Liesel is one of those beautiful human beings you wish you could protect from the world. This book reads like poetry, and devastates you just as much. I don't usually force books on people (liar), but this is one I want every single person to read! Please, read The Book Thief. I'll comfort you when the crying begins.
Also, don't you just WANT to read a book narrated by Death?
Liesel would be trying to convince Jane and Laila to "borrow" a book from the bookshelves. It doesn't surprise me anymore to find a new book stashed on the lowest shelf, or a handwritten story on my bedside table.
---
Jane Eyre
By now, you probably know about my absolute love for the Bronte sisters! I love the ability to create a gothic atmosphere, writing independent and selfish women, while throwing a literary middle finger to society back then.
Jane Eyre is one of my favorite heroine; while she is written as one who easily fades into the background, not once do we read about her being self deprecating or pitiful. She has this quiet strength that I thirst for. I adored her for the great respect she held for herself no matted the pain it caused her.
Also, she could probably burn your soul without so much as lifting an eyebrow.
We have a wall at home dedicated to Jane's art and Rufus' photographs. The most level headed of the girls. Jane would make sure to help at the table before running off to join Liesel and Laila in a new escapade.
---
Dorian Gray aka King Of the Beautiful Broody Brothers.
I loved the book, but I loved to hate Dorian even more. At first, I thought he was an innocent duped by Lord Henry but you know, I realized, the boy has got about as much self control as pumpkin on Halloween. He doesn't know how to make decisions for himself, and as time goes by, you read him growing more cruel by the day. .orian Gray is that character who piles sin on top of sin on top sin, and then whines about going to hell.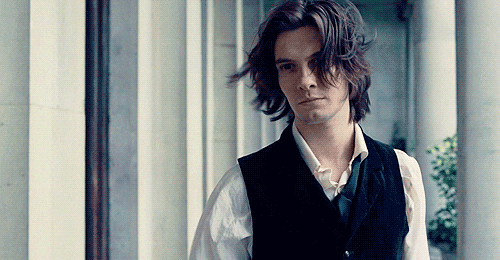 Also, why dark hair? I remember Wilde describing him as having blond hair.
Dorian is sort of the weird kid. Easily impressionable and always wanting to impress people. So I put the fear of God into him. I help him find a passion hoping it would help him understand himself better. He found out that he enjoys baking. Every week he bakes a delicious dessert for the family.
---
Kinneret Raza

My favourite salt witch, you guys! A badass sailor turned captain, Kinneret Raza is full of passion for her family. I love the different dynamics she had with the side characters, especially that with her sister. I'm a sucker for sibling relationships in novels.
I loved reading how Kinneret bravely faced prejudice, and worked mad to prove them all wrong.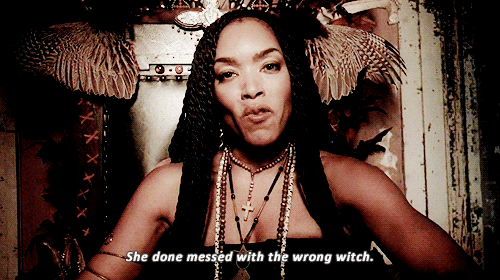 There's ALWAYS a bag of salt missing! Kinneret entertains everyone with her latest adventure. Never the child to sit quietly; she and Peter disappear often and come back with beautiful trinkets for each family member.

---
Raggy Maggy

How could I not love, my precious moon child? This girl is pretty much freedom in human form. Maggy is an incredible and lovable character in spite of her rough edges. If you've read this book, you know exactly why I named her so.
Maggy, and Rufus are the Parkour kids of the family. Maggy teaches Rufus to scale houses. Together they work on building mechanical toys. She'd probably win at science fairs.
---
Rufus Emeterio

If you're looking for a good tear-jerker, then pick this one up. It's only _ pages long but, my oh my, does it pack a punch. If you can finish this book without shedding a single tear then congratulations, little dreamer – you're Mama C's little monster. How about a slice of world domination now?
Seriously, though, PICK UP THIS BOOK! You will love the characters. I promise you Rufus is not the bad boy he pretends to be.
Every Friday, Rufus brings up a new location that the family must visit. There's an entire bookshelf just for Rufus' photo albums.
---
Kafka

I don't see a lot of post about Kafka. Why is that? I'll admit that while I didn't completely love Kafka – because this story is more vague on the characters – I enjoyed Kafka On The Shore a lot! The story line isn't straightforward at all; there were moments where I had a BIG question mark over my head but the grim atmosphere and messy human emotions written by Murakami is fantastic. Kafka is a book that needs to be explored; a perfect read for a cold day.
Kafka loves animals. He's always caught with a pocket full of food in case he meets a stray. Playing classical music during dinner is a must for him. 
---
Arya Stark
I don't often talk about Arya because I feel she already gets so much love from the fandom, while Sansa doesn't…? Anyway, let me just gush over my murderous baby. Needless to say, I enjoyed watching Arya's character development – from struggling with her identity as a woman, stumbling over her obstacles yet continuing to move on, fighting for her family, for herself; being humiliated and facing Death because, let me tell you, that girl knows her worth.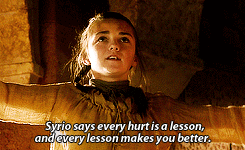 Even as an assassin, it's interesting to note that Arya is still Arya. She never lost her identity, she simply grew into it.
She's constantly bugging Rufus to teach her to fight "street style"; of course, she gets beaten up, so insists we enroll her in kickboxing. Never gets her haircut at the parlour.
---
Peter Pan
Who can forget the King of the Lost Boys? Peter Pan is such a grey character! Have you heard about the original story for Peter Pan? You can read it here.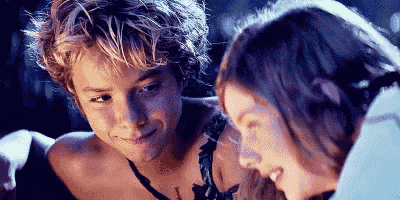 The origin is grim and makes Peter's mischief seem much more sinister.
Peter always has a new friend at the table every weekend. The family has gotten used to keeping an extra chair or two by the table for Peter's friends. He visits the foster home often.
So, what did you think? Would you like to have dinner with us?
Who's one character you'd love to have dinner with? What would it turn out like?
Have you ever stolen a book?
Connect with me on instagram and goodreads
[Top Ten Tuesday is a weekly meme hosted by The Broke and the Bookish.]