This post is part of Top 5 Wednesday, created by Lainey , and now hosted by Sam from Thoughtsontomes. You can find the group on Goodreads and all their weekly topics here.
Today's Top Five Wednesday topic is our favorite bromances! Gosh darn it, I just love love. I didn't stick to the books for this list because my top most favorite bromance relationships are from anime shows, not that I'm surprised. Any other anime lovers out there? But to be honest, this is more about me crying over characters who deserved better, like please let me pass on some heartache.
Ken Kaneki and Hideyoshi Nagachika

I cannot talk about these two without reducing myself to a puddle of tears. For anyone who has watched Tokyo Ghoul or read the manga, baby, I'm sending a virtual hug your way, alright?
I love these two so much! They are so cute together! Hide loves Kaneki no matter what he is. It wasn't just to protect Hide that Kaneki kept his ghoul identity a secret. I believe he was also scared of being rejected by Hide –  I just…my poor baby. Why, Kaneki, why did you think Hide would abandon you? They've been best friends since little boys; when Kaneki's mom passed away Hide was the one who took care of Kaneki. Hide knew all long who he was and still love him. I swear these boys deserved so much better! That last episode drove me to hysterics. Every time I see a picture of them I actually tear up.
I haven't read the manga for this yet and there are some who theorize that Hide isn't dead, so I'm hoping beyond all hopes that somewhere in Tokyo Ghoul: re I see them together – happy and in peace.
---
Roy Mustang and Maes Hughes
Why am I doing this to myself? WHY? Maybe I'm addicted to the pain.
Despite the few episodes we had Hughes, I loved his character so much! I love how Hughes was always calling him up, showing him pictures of his family, and *chokes on tears* even though Mustang was all "No, Hughes, I don't want to hear about your family!" you knew Mustang secretly enjoyed it all. Their relationship was so strong that  Hughes death didn't just break his usual calm and charismatic demeanor,
---
  Aang and Zuko
These two are hilarious! Zuko with his bad boy vibes and Aang being the most affectionate goof ball ever. There were quite many parallels between the two characters; both strive hard to be someone everyone expects them to be. Zuko did make a lot of terrible choices but let's not forget that Zuko, at thirteen, spoke against the terrible plan to sacrifice new recruits which led to his banishment. These two are my favorite of the enemies to friends trope who grow to understand and respect each other.
---
Rhy and Kell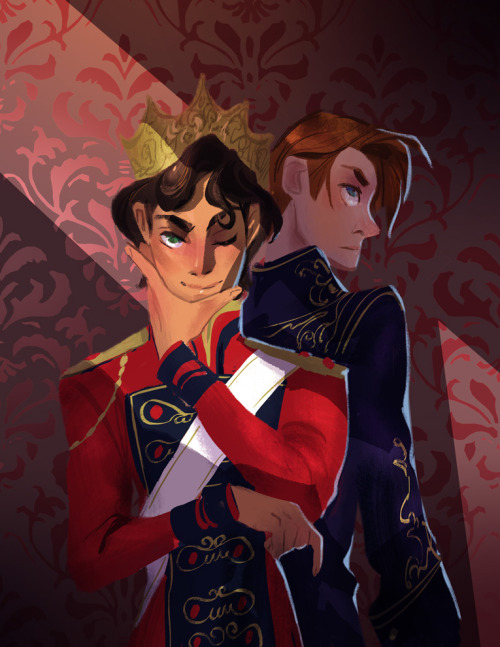 I know I only read the first book of the Shades of Magic series (which I think reads like a standalone) but I was completely taken by Rhy and Kell's relationship. You can tell how overprotective the brothers are with each other. Despite Kell being adopted, Rhy doesn't allow and hates it when Kell only sees himself as a possession. If in just one book I've already been emotionally entangled by them, I don't know what A Gathering of Shadows, and A Conjuring of Light are going to do to me.
---
Fitzwilliam Darcy and Charles Bingley
Let me get it out of the way: Darcy is pretty much a jerk. I know, I KNOW! He's honest, rational, and has a heart of gold, but he's also a snobby man. While Bingley is the sweeter and milder character. Seeing how influenced Bingley was by Darcy about Jane, and how Darcy was protective of his friend, it goes to show how much these two respect and trust each other. Although, I do wonder if Bingley ever called out Darcy on his arrogance. I can't say that I "love" their relationship, more of a like like.
Oh, and another thing, these two aristocratic gentleman have the funniest names! Every time I read "Bingley", I think of the way Mr. Bean says his name.
Yes, I know I have issues. I know they're fictional but I will burn kingdoms to see Kaneki and Hide as well as Roy and Hughes happy. If only life was fair.
Which are your favorite bromance relationships? Whether it's from books or shows, I'd love to hear them.
Don't forget to tell me a little about these characters and why you love them!
Until the next post, I'll be quietly weeping in a corner.