This post is part of Top 5 Wednesday, created by Lainey , and now hosted by Sam from Thoughtsontomes. You can find the group on Goodreads and all their weekly topics here.
This week's topic is our top five books before we began blogging, Goodreads, or booktube. My literary tastes was mostly confined to classics and historical fiction. Sometimes, I would try new books whenever the Scholastic book fair came to my school. The genre I read now hasn't changed very much but has certainly expanded. Below are five books that I enjoyed and still love even before I started Camillea Reads.
P.S. I'm trying not to repeat myself, so I had shuffled through my Goodreads favorites to find ones I haven't mentioned.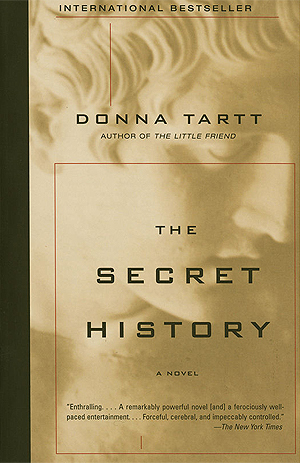 The Secret History by Donna Tartt
My adoration for this book goes beyond just liking it. The best way to describe this is members of The Breakfast Club you starting their own cult. This is more of a character-driven book, and has my favorite trope: the unreliable narrator.
---
Kafka on the Shore by Haruki Murakami
Kafka is one of those books that I will never be able to properly describe to someone. We've got a runaway boy, a man who can talk to cats, an awesome library, and a fish falling from the sky. This novel follows none of the literary rules.
---
The Yukon Queen by Gilbert Morris
I read this book long back as a teenager and it has now come to have a sentimental value. A story that takes place during the gold rush in Alaska; the book is engaging with a depth to its historical background. It's one of the books I always go back to.
---
The Illusions of Love by Kasey Michaels
Everyone has a guilty pleasure book and this was mine, without the guilt. *ahem* It's a slow read, mind you. But I loved the characters in this book, especially Sarah Jane's character development. She's one of my favorite female literary characters!
---
Stolen: A Letter to my Captor by Lucy Christopher
This is one of the most intriguing books I've ever read! It leaves you asking a lot of questions; it leaves questioning yourself and the characters. There's quite a bit of creepiness to it. The characters are both complex that you end up feeling for both of them. Oh, and the setting is so richly described! It's a wonderful read.
What are some of the books you read before joining Goodreads, or having a blog?
If you're also participating in the Top 5 Wednesday, let me know so I can check out your list!
Psssst….don't forget to join my giveaway for The Devil's Revolver by V.S. McGrath. Full details here.