In a land far, far away exists people with dark skin, brown eyes, and a temperance as hot as the sun. In a land far away are people with languages – some sound like the beating of drums and some sound like the pull of the tides.  In a land far away, there's a struggle to be heard.
As a bookworm, I'll admit that most books I read were set in the Western world. Even the fantasy books I read are inspired by a medieval Western society. Which is a shame for someone who enjoys reading historical fiction. But over time, I began exploring unheard writers, listening to the stories they had to tell me, risking my imagination on an unfamiliar environment.
Today, it is one of the best decisions I have made. Reading books that are non-western teaches us something more – it gives insight into political climates, into the different racial struggles, and introduces us to beautiful languages. Historical fiction will always remain my favorite genre, and today as part of the Top Five Wednesday meme, I am going to recommend you five books that are non-Western.
Top 5 Wednesday is a weekly meme, created by Lainey, hosted by Sam, where you're given a new top 5 topic every week and you make a post dedicated to the topic. I came across this on Goodreads, so if you're interested in joining just click here.
Corelli's Mandolin by  Louis de Bernières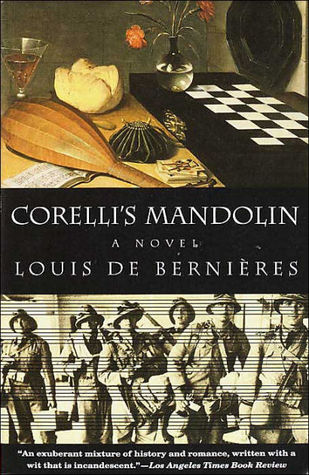 I purchased this book on a whim from a secondhand bookstore. Historical fiction is my genre. Half of the books on my shelf are historical, but I had never read one with an Italian or Green background. It's a charming book but Corelli's Mandolin is far from from a feel good book for me. The writing it both witty and captivating. Not many will enjoy the many different voices and styles, but what infuriated me even more was its ending.
Kafka On The Shore by Haruki Murakami
This is the first book I've read by Murakami. I had been hearing so much about him and decided this was the book I wanted to read. First, I am so in love with the cover for Kafka, it certainly visualizes the emotions in the novel. What I loved about this was the confusing and whimsical world Murakami had created for his novel. The disconnection I felt with the characters seemed to be the author's intentions. Reading this stirred feelings I couldn't comprehend. Not many will love this book for there is no moral by the end, it simply is a story, whether we understand it or not.
A Thousand Splendid Suns by Khaled Hosseini
Suns is a social commentary on Afghanistan's history. The core emotion of the book is the relationship between Mariam and Laila.
Hosseini had my heart wrapped in his words. I could not put this book down no matter how good of a job it was doing at hurting me. Suns holds a special place on my shelf; an emotional and detailed fiction portraying the complexities of a world I was not familiar with.
Love in the Time of Cholera by  Gabriel García Márquez
Worst thing about this book is that I left my copy of it in India. Sucks.
First, this book is not about love. Don't let the charming title deceive you. It's a book about selfishness, jealousy, control, and, let me say, the characters are not the most likable.
Which is exactly why I enjoyed this book.
The only thing romantic about this book is the way Marquez writes it.
Auma's Long Run by  Eucabeth A. Odhiambo
I had written a review for this book not long back.
I'll admit my heart broke many times as I read Auma fight with determination (and slyness) for her right to an education, how often she ran from marriage, how steadfast she was with becoming a doctor. Auma is a fierce dreamer. I don't think anyone reading this book would not be inspired by her. I also liked the portrayal of the various characters and how each had their own opinions with the tragic events taking place in the village.
So there you go, my lovelies. Five books to take you out of your homeland and to lands where our sense of reality is not the same. Have you read any of these books?
Or are there some you think worth mentioning? 
Connect with me on
 Instagram // Goodreads // Facebook // Bloglovin' // Tumblr //Twitter