So, I found this book tag on the
Book Loving Nut
 and thought it would be great fun to give it a try! Not that I have anything to confess when it comes to books because…I'm an open book!
*laughs hysterically* I'm sorry, guys, but besides my love for books, I also love terrible jokes.
1. Which book, most recently, did you not finish?
The Devil's Prayer by Lukas Gracias. Which was weird because the book's story line is soooo interesting especially for someone who loves the macabre! But the writing felt too clunky for me.
2. Which book is your guilty pleasure?
Taming of the Shrew by William Shakespeare. Yes, yes, I know it's not a book but you don't control my reading habits. You're not my mother or Shakespeare.
3. Which book do you love to hate?
Fifty Shades of Grey by E.L. James. I'm ashamed to admit that I used to enjoy that book but when I "re-thought" on it I realized how abusive the relationship was and just…*growls* I will fight anyone who says that their relationship is love.
4. Which book would you throw into the sea?
After by Anna Todd. I read this book when it was still on Wattpad and was a Harry Styles imagine. 1. Abusive relationship. 2. Horrific writing. 3. Even the smut is unimpressive. I hate this book with a passion. I wouldn't just throw it into the sea. I'd bury it there with an anchor over it.
5. Which book have you read the most?
Probably Far From The Madding Crowd by Thomas Hardy. Does nobody know how much I love Bathsheba and Gabriel!? Bathsheba is such an underrated literary character. My girl deserves so much more attention.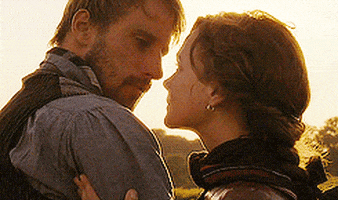 6. Which book would you hate to receive as a present?
Anything erotica. I'm sorry, but maybe I'm reading the wrong kind, but I can't seem to like the any of the erotica books I've read so far.
7.  Which book could you not live without?
My Wheel of Time series. Don't make me live without it please. There are fourteen books in the series and I only just finished the fifth!
8. Which book made you the angriest?
I think we've established that Anna Todd's After makes me more than angry.
9. Which book made you cry the most?
The Perks of Being A Wallflower by Stephen Chbosky. I read that book pre-medication and everything about it hit me so hard. That book has so many highlights and notes and I just….
10. Which book cover do you hate the most?
The Great Gatsby by F. Scott Fitzgerald is on my TBR list but, believe me, if I'm buying the book I am so not buying that cover. I don't know whether it's that terrible shade of blue or the eyes, but I dislike this cover.
Whoever is reading this is tagged! You can leave some answers in the comments or tag me in your post! I'd love to read your confessions. 
Connect with me on
 Instagram // Goodreads // Facebook // Bloglovin' // Tumblr //Twitter