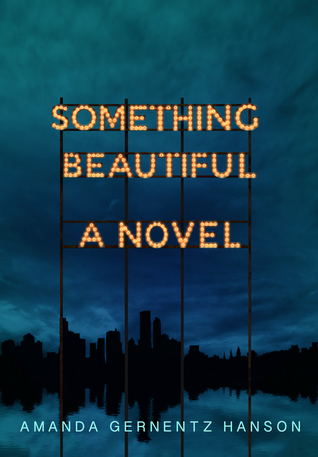 Cordelia and Declan have been best friends since they were three years old. By the time they hit middle school, Cordelia—Cord, to Declan—is already feeling the blackness in her life as depression takes hold. Their mutual attraction to each other leads to a serious high school relationship, one with their foundation of friendship at the forefront. Cordelia seems to have her mental health under control. All appears to be well.
However, when Declan starts to accept his own fluid sexuality, it sets something in motion in their lives that is both beautiful and tragic as they learn to love each other for who they are.
trigger warnings: homophobia, use of the word queer, self-harm, depression, anxiety, suicide, death
---
Camillea's Thoughts
For those of you who follow me on Instagram, you know how terribly excited I was for this book. The themes the author chose to address in SOMETHING BEAUTIFUL are very personally sensitive matters.
The major focus in the book is Cordelia Quinn and Declan MacLeod's friendship and love. We read about how they try to understand their relationship with each other, how it goes beyond friendship, and their dealings with mental illness and sexuality respectively.
The love portrayed in this book is not your traditional love story.  This is a novel with a purpose that surpasses love, to focus more on intrapersonal issues as well as social issues.
However, I must point out a few problems I did have with the book.
One: The lack of family relationship representation. This is one "trope" I've come that has begun to trend in many YA books. Parents are always missing, and for a book with such a heavy theme, I think this might have been a harmful thing to have done. Support for a person's identity and mental health begins at the core of any society i.e. the family. Since the book was told mostly from Coredlia's POV, I can understand why Declan's family wasn't represented as much. But the issue of mental health would have been addressed better if the support Cordelia received came from both a friend and her family.
Two: There is a lacking of characterization with the voice of the characters. The characters did not grow up. We have two characters dealing with heavy emotions differently and yet as I read to the end, there wasn't much to differentiate them from each other. All I knew of them was how they behaved towards each other – in fact, Cordelia and Declan were being too co-dependent – that beyond that I did not know Cordelia and Declan as individuals.
Three: The overall problem I had with the book was that it was too fast paced which is probably the reason for the problems I stated above. Writing about sensitive issues like mental illness and sexuality will not be dealt with accurately and properly if the novel moves too fast. In fact, There were awkward moments in the book that left me confused. The thing is, a book like this might be in tune with those who deal these issues but for those who do not have mental health problems or are heterosexual, they will not understand. SOMETHING BEAUTIFUL should have taken its time delving more into the minds of our characters.
>> What happened to Cordelia while she was in England? What were her thoughts during her self harm? What are her coping strategies, from her perspective and not Declan's? How does her family deal and support her mental health? What about her therapy? Who were her friends besides Declan? How did she and Adam handle days when her depression was at its worst?
>> How does Declan and his family come to understand his sexuality? How did Declan deal with his "confusion"? What about Declan's LGBT friends? Oh, and what happened between him and Peter?
Now that that's over let me tell you what my thoughts were throughout reading the book. Perhaps you may agree with you, or you may not. I understand that quite a few people found this book problematic, and as I stated before there are some "flaws" to the book but there were some parts which I really liked.
I'll begin with Cordelia's mental illness – how it was represented in the book – because it is what is most personal for me. In many ways, I relate to Cordelia. Self harm, depression, and anxiety is not new to me. I've read reviews that spoke of Cordelia being childish which I understand but at the same time, I want to point out that this childish behavior is a coping mechanism for many of us with depression. As immature as many readers may find it, it is happening. I cried at many of Delia's scenes because it felt like I was reading about myself.
Here, in my hands, I had an accurate description of my depression.
Declan's response to Delia's admission to self-harm, "What can I do to help?" left me reeling for a minute. Confessing suicidal tendencies to someone is met with a lecture on how bad it is, or a short awkward laugh, or tips on what to do. It never works. Never.
"What can I do to help?" is the most appropriate question anyone can ask, can say.
"the only person who I was living for, even though neither of us knew it at the time."
Sounds very co-dependent when I first read it. I hated it because it made me feel that my depression was making me weak, making me rely on other people for existence. But after a while, it hit me that I had done the exact same thing. No one will like hearing this but when I was suicidal, what kept me from going through with it was my person, and that was my sister. So yes, I based my existence on her and I'm still here. Perhaps sometimes moments of strength come from reminding yourself that it's not weakness to live for someone else (as long as your own health and happiness is not risked, of course).
"[…] she's going to question herself every single day. She's always done this. […] Don't get frustrated with her, because she'll think that's proving her point."
Being bisexual myself, I loved reading about Declan's sexual fluidity. The author broke the whole 50/50 attraction that people think of bisexuals; showing that some bisexuals do have a tendency to be more attracted to the same sex, or sometimes the opposite, but that doesn't make them any less a part of the bisexual or pansexual community. I would have preferred the author to actually have made Declan label himself as bi rather than saying he didn't like labeling. For one, it would bring about a better representation and it would also show readers that there's nothing wrong at all with liking both sexes.
I wouldn't have mind if the book went on longer as long as these were added in; it would have made an essential contribution to the characters.
In the end, this book has become a favorite of mine. If there was one thing I took away from SOMETHING BEAUTIFUL, it is about the fluidity of love.
Love doesn't stop at one person. Love changes, it differs by person, and yes, it can save. Self-love or love from another, platonic or romantic, love is love.
Format: Paperback
Publication Date:  June 27th 2017 by Pen Name Publishing
Links:  Book Depository Affiliate Link || Amazon || Goodreads
Author Info: Amanda Gernentz Hanson has been writing stories since the third grade, when she turned in a five-page story about talking dogs to a local youth arts contest. She is an instructional designer by day and an everything else by night. Amanda is a proud Latina who earned her Bachelor's degree in Chemistry from Hope College and her Master's degree in Technical Communication from Minnesota State University.
Author Links:  Website || Goodreads || Instagram
I'd like to thank the author for sending me a physical copy of this book.
All opinions are of my own.
Connect with me on Instagram // Goodreads // Facebook // Bloglovin' // Tumblr //Twitter 
or by signing up for my newsletter
If you'd like to help support, you can also find me on Patreon