When I was a child, I read everywhere. I would hide books under my mattress and when the time came for my afternoon nap, I would briefly close my eyes, then hide beneath the covers and read until I was caught. And I was always caught in the act. At night, I would read by the light of a flashlight.
I was a rebel in a very quiet and bookish way.
That's probably the reason why I wear thick glasses now. Either that or because I used to read my books upside down. Before I knew how to read, I was already a budding bookworm.
Last week Maea posted her own list of childhood books she loved. And because Maea is my sister, we read the same books. Our love for books was shared but as you will see from my own list, our taste in books differed.
Although, we both did love Enid Blyton and I was half tempted to add her in, because she was the Queen of my bookshelf back then.
Top 5 Wednesday is a weekly meme, created by Lainey, hosted by Sam, where you're given a new top 5 topic every week and you make a post dedicated to the topic. I came across this on Goodreads, so if you're interested in joining just click here.
The Twelve Months
This is a Slavic fairytale about a girl named Marouckla, the version I owned her name was Marushka. Like in any fairytale we have the evil stepmother who sends Marushka out into the terrible winter to get things like apples, strawberries, and violets. In the midst of the blizzard she finds the twelve months personified.
This story could have gone many other ways than Marushka returning back to her evil family, but we all know fairy-tales are brutality in disguise. So, naturally we get the happy ending.
 Black Beauty by Anna Sewell
I love this book because it's what people used to call me when I was young. Pretty sure it was meant to be an insult but I took it to mean that I was beautiful and had strong legs.
Set in Victorian England, the book shows its readers the pain inflicted on animals for the sake of human's use, and fashion. Because the book was told from the perspective of an animal, we begin to empathize with the pain of the animals. This book triggered a strong action for creating reforms against the cruelty of animals.
The Velveteen Rabbit by Margery Williams
Everyone remembers their first heartbreak. I don't think I will ever recover from The Velveteen Rabbit. It's a bout a little stuffed rabbit who wished to become real. This children book touched upon the notions of what is real, or at least we define our own reality. The Velveteen Rabbit carries with it a heavy thought written in prose that will have you un-boxing old stuffed toys and apologizing.
Little Women by Louisa May Alcott
I loved this book so much because of its theme on family and how much I related to Jo March. The book touches on topics about a woman's identity as she grows up, and in society. It was my go-to "feel good" novel.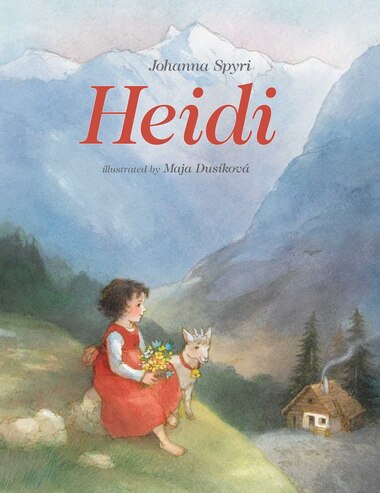 Heidi by Johanna Spyri
I was envious of Uncle Alp's life. Living in the mountains with his herd of goats. Away from people. The relationship between Heidi and her grandfather is beyond charming. It's a cute light-heart read for anyone in need of a sense of calm.
Writing this list, as I scrolled past old books I used to read, made me really happy. It also made me aware of how much my reading habits have grown and changed. But even so, I know these are stories that I would re-read, if ever I would want to revisit my childhood again.
Have you read any of these books? What were your favorite childhood stories?
Do connect with me on Instagram // Goodreads // Facebook // Bloglovin' // Tumblr // Twitter 
or by signing up for my newsletter
If you'd like to help support, you can also find me on Patreon