Hosted by The Broke and Bookish || Read on Lindsey Reads
Poster Background: Designed by Lularoe Graphics
My gosh, I can't believe June is over already! My blog is a month old now, and I am so ready for hibernation.
*responsibilities wack me on the head with every book on my TBR list*
So, how about we put off that hibernation with a little June wrap-up for you. If books aren't an enough incentive for you to look forward to July, then may I remind you that July 1 is National Creative Ice Cream Flavors Day, and July 13 is National French Fry Day because who doesn't love potatoes?
According to my Goodreads account I've only read 21 books so far; not exactly the number I'm pleased with but having to balance university, my novel writing, my poetry blog, and now this book blog – I've definitely got my hands full!
Let's take a look at my top books, and books I'm yet to add to that pile.
MY TOP THREE BOOKS (so far)
BIRTHRIGHTS BY J. KYLE McNEAL
My love for fantasy was furthered by this book. I've gotten my sister into reading this book and she's a teeny bit mad having to wait until 2018 for the next part.
If We Were Villains by M.L. Rio
Sure, I love Shakespeare. And sure, I love murder. As in the genre not the act. If We Were Villains poetically intertwined, stripping its characters painfully slow to reveal an ending that made me want to bruise my knuckles. In a good way.
The Count of Monte Cristo by Alexander Dumas
Is this not the greatest revenge story ever? The thing I loved about Dumas was how he had written out Edmund/The Count tragically flawed – wealthy, cunning, and a devastation. Everyone but the characters know this, and even knowing about The Count's flaws, I still loved the character.This book was published before I was even born but if I were to seek out vengeance I'd follow rightly so in the footsteps of Edmund Dantès.
NEW RELEASES I AM YET TO READ
ELIZA AND HER MONSTERS BY FRANCESCA ZAPPIA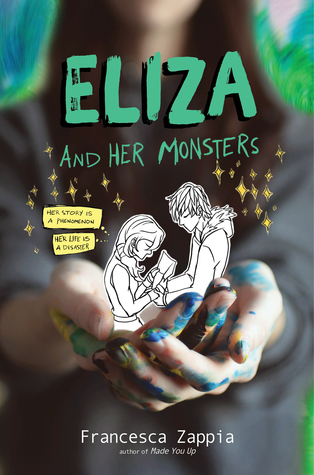 She drew so many monsters that she became a monster herself. Sounds like a certain poet I know. But why exactly do I want to read this? Let me indulge my vanity, I want to read this book because somehow I feel that I'll be able to relate to Eliza Mirk.
STRANGE THE DREAMER BY LAINI TAYLOR
I can't even begin to say how many times I've been recommended this book. Believe me when I say, reader, this is the first book I'm buying this July.
POPULAR SERIES I NEED TO READ
SHADES OF MAGIC SERIES BY V.E. SCHWAB 
Cait from Paper Fury's love for V.E. Schwab is probably starting to rub off on me, so I believe it is my duty as a "voracious reader" to finally give this series a read. I hear that the magic is way beyond awesome, and hello! the covers are soooo pretty. I need them.
   THE GREAT LIBRARY SERIES BY RACHEL CAINE    
A world where The Great Library of Alexandria survived! I'm a total fan of historical fiction; now pair that with a bit of fantasy, and reader, I think we got the right concoction for me to get drunk on.
BOOKS I LOOK FORWARD TO RECEIVING
This book seems like it's got everything I'm looking for: POC characters, Asian inspired mythology, dragons, gods, and a woman protagonist. You should also know that this is a four book series!
 Here's a link to see all four of the covers!
Something Beautiful by Amanda Gernentz Hanson 
The book has two important themes, which are also my advocacy, mental health issues and sexual identity. As someone who suffers from depression and anxiety, and who has struggled with my sexual identity, I couldn't help wanting to know more about Cordelia and Declan. As ideal as it is, I wanted to see a part of myself in them. Oh, and did I mention you can join the giveaway for it? Click here.
There is so much more to be added to that list!
Whoever is reading this, you're tagged now! You can either follow the original tag outline or modify it for yourself! Whatever suits you! Do you have any anticipated reads that you'd like to recommend? Comment it down below.
Connect with me on Instagram // Goodreads // Facebook // Bloglovin' // Tumblr //Twitter 
or by signing up for my newsletter
If you'd like to help support, you can also find me on Patreon